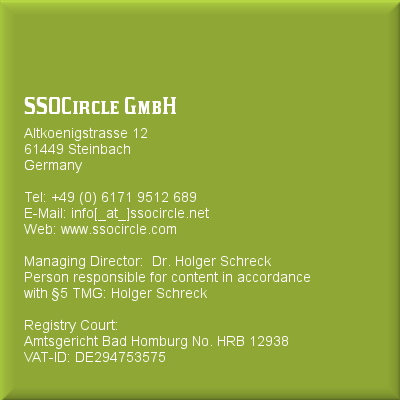 Legal Notice
Liability for content.
The content of our websites have been created with utmost care. We cannot, however, assume any liability for the correctness, topicability and completeness of the content. As a provider of services, we are responsible under article 7 para.1 of the German Teleservices Act (TMG) for our own content on these pages in accordance with general law. Under articles 8 to 10 TMG, however, we are not obliged as a service provider to monitor third-party information that may be transmitted via or stored on our site, or to investigate circumstances that might indicate unlawful activity. Our obligations to remove or block the use of information under general law remains unaffected by this provision. Liability may only be assumed from the time at which knowledge is obtained about a specific infringement of law, however. Once we become aware of such an infringement, we will remove the relevant content immediately.
Accountability for links
Responsibility for the content of external links of third parties lies solely with the provider or operator of those pages. The linked pages were checked at the time of link creation for any possible infringement of law. No unlawful content was detectable at the time. Should we become aware of any legal infringement, we will remove the relevant link immediately.
Copyright
The content and work of our pages are subject to German copyright law. Any reproduction, editing, transmission or any type of use beyond the scope of copyright law shall require the written permission of the respective author or creator.
Terms of Use
Please review our terms of use here.